NEWS
ANNONCE // Latest News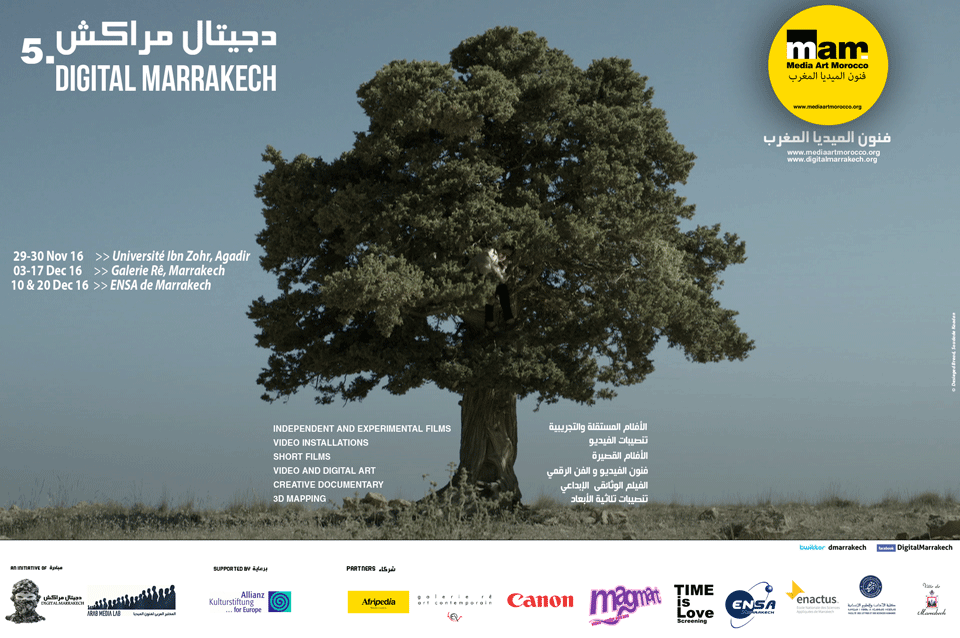 ANNONCE // Latest News
DIGITAL MARRAKECH 5 // 27 NOV - 17 DEC 2016
The 5th edition of DIGITAL MARRAKECH Festival / DM 5, will be held from 29 Nov to 17 Dec 2016, in several cities in Morocco

After series of Master classes and professional training workshops in the field of Media Arts, visual creation and digital cinema, which took place from January to May 2016, under the name of MAM-MEDI ART MOROCCO, The Digital Marrakech Festival will be held in Agadir and Marrakech, with a very important selection of works (experimental films, video art , creative documentary and 3D animation, 3D mapping...) , with the latest creations from The Arab world and international, and a special focus AFRICA

There will also be a screening of the films produced by young filmmakers and artists during the MAM-MEDIA ART MOROCCO workshops (January-May 2016).
Venues:

29-30 November 2016 >> Ibn zohr University, Agadir
10 December 2016 >> ENSA de Marrakech
03-17 December >> Galerie Rê, Marrakech
With the participation of national and international artists:
Abdelaziz Taleb, Ayoub Qanir, Simo Ezouberiri, Soudade Kaadan, Teddy Goitom, Benjamin Taft, Alex Pearl, Annabel Dover, Carla Gannis, Frederico Evaristo, Halida Boughriet, Irina Gabiani, Joas Nebe, John Sanborn, David Oppenheimer, hyung suk lee, VG. Venugopal, Ezra Wube, Recep Akar, Eli Squaiby, Jac Min...
Full Activities Program

To consult the full Program    PDF